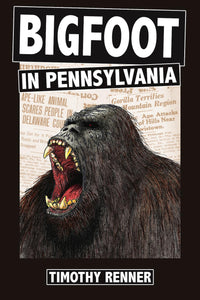 Bigfoot in Pennsylvania: A History of Wild-Men, Gorillas, and Other Hairy Monsters in the Keystone State
Though the terms "Bigfoot" and "Sasquatch" have only been in our popular vocabulary since the late 1950s, people have been seeing large, bipedal, hairy monsters for as long as we've been keeping record. From the myths of early man, to medieval manuscripts, to the earliest newspapers, these creatures make appearances by various names, but their described appearance and behavior seem to suggest Bigfoot has been hiding in the woods beside us for as long as we can remember. Old newspaper articles call the creatures "wild men", "gorillas", "hairy giants", "ape-men", and "spooks" - but the reports describe large, hairy, man-like creatures crying out with unearthly, eerie howls and leaving strange footprints in their wake.

Collecting newspaper reports from the 1830s through the 1920s, the articles in this volume show that Bigfoot is not new, nor is it a phenomenon confined to the Northwest United States and Canada. Bigfoot creatures seem to have been roaming Pennsylvania for as long as anyone can remember. Herein are strange tales of wild-women abducting children; frightening wild-men slaughtering livestock; and giant gorillas roaming over the hills of Pennsylvania. Read about huge, bare footprints found in the snow and mud; ape-men attacking humans; and weird, hairy beings creeping across farm, field, and forest.