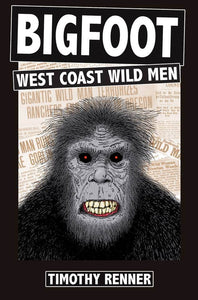 Bigfoot: West Coast Wild Men: A History of Wild Men, Gorillas, and Other Hairy Monsters in California, Oregon, and Washington State
Whether presented comedically in popular culture or explored as a serious scientific curiosity, giant, hairy, manlike creatures have become well known entities in these modern times. These bipedal monsters have been called by many names - most commonly "Bigfoot" and "Sasquatch" - but these terms have only been in our popular vocabulary since the 1950s. Long before that time people were seeing and documenting the creatures. Many old newspaper accounts tell of encounters with "wild men", "gorillas", "ape-men", and "hairy giants", issuing unearthly howls and leaving mysterious footprints in their wake. No matter the names given to the creatures, from the descriptions of their appearance and behavior, consistent from the earliest newspaper articles to modern reports, people have been seeing Bigfoot for as long as we have been keeping records.

This volume collects newspaper articles from California, Oregon, and Washington dating from the 1850s through the 1920s. Herein are tales of huge gorillas roaming wild in the California hills, hairy giants haunting Oregon, and wild men attacking women in Washington. Read about a gorilla-like creature killed by hunters who described its appearance in great detail; a wild man who visited the campus of a major university on several occasions; and a strange dreamlike tale of a young man abducted by a hairy biped and taken to its underground lair.