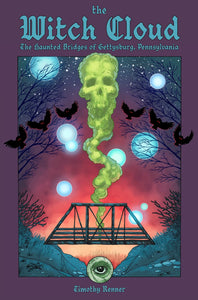 THE WITCH CLOUD - Second Edition by Timothy Renner (signed  copy)
Second edition (paperback) of "The Witch Cloud" book. Expanded to include an appendix on the Solomon Road Bridge (another haunted bridge in Gettysburg) as well as new illustrations and an additional photograph. 94 pages. Signed by the author (Timothy Renner).
 
Suicide Bridge–a name which evokes darkness and fear. Some say this iron bridge is the most haunted place in all of Gettysburg. Sachs Covered Bridge crosses nearby Marsh Creek, where stories of disembodied floating heads and the spectres of hanged soldiers draw ghost hunters nightly. Are the two structures connected?
 
Employing a combination of historical research, witness interviews, and boots-on-the-ground firsthand experience, Timothy Renner unearths both the history and the legends associated with the two bridges. The stories he uncovers cause him to question what might be haunting the area... and the very nature of ghosts.