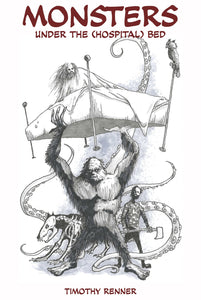 "Monsters Under the (Hospital) Bed" by Timothy Renner
In April of 2021 artist, musician, author, and host of Strange Familiars podcast, Timothy Renner had a major M.S. attack. It landed him in the hospital, numb from the waist down. The numbness progressed into his hands....however, he could still draw.
During the time he was in hospital and directly after, when he was at home recovering ("medically home bound") he completed 18 drawings of various monsters, cryptids, ghosts, and more.
The response Timothy received to these drawings after showing them online encouraged him to collect the series into a limited edition booklet.
18 black and white illustrations completed in April and May 2021. Subjects include: bigfoot, ghosts, mothman, flannel man, funnyman, frogman, windigo, black dogs, and more.
20 pages, black and white.
5" x 7.5" - saddle stitch binding
Each booklet will be signed by Timothy.
Sales from this booklet will help offset loss of income while Timothy was unable to work... as well as aid with medical expenses, and the purchase adaptive equipment to make creating art/music/podcasts and writing easier for Timothy going forward.